Tackling the drip in the frost proof valve is a simple fix in this case because I noticed that the packing nut was loose and simply tightening this nut would remedy the drip from around the handle. This can be done without turning off the water supply. With PRIER hydrants, it is recommended to hand tighten and then use your wrench to tighten a quarter turn more.
While my hydrant fix was very simple and didn't require any parts, there can be more involved repairs that are needed when you have other symptoms. To make these fixes easy for you, PRIER offers three short videos that will help walk you through these simple repairs. The videos outline the parts you may need and you can locate a nearby parts supplier on our Find PRIER page. If your valve is not exactly like the one in the video, rest assured that the process will be very similar and you still may be able to fix it in a similar fashion.
My second item on the honey-do list was a repair on a leaking hose. I found that the brass coupling, which connects to the spigot, had a split that was causing water to spray around the hydrant handle. A quick look at this made my decision an easy one. A split of this kind can be repaired with a $3 coupling rather than buying a new heavy duty hose for $35 or more.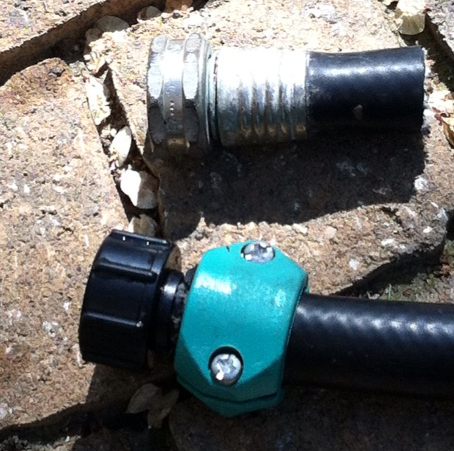 The simple directions: cut off the bad coupling, push in a barbed fitting and clamp the fitting in place by tightening three screws. It also helps that the new fitting had a new rubber washer to make a tight seal. Simple and the hose works like new again! Now my repaired hose sprays out of the nozzle and not on me!
The skinny on Scott: My name is Scott Livingston and I want to be your friendly guide to PRIER. To let you know a little bit about me, I am a husband, father of 3, coach, volunteer, amateur fix-it guy, rental property owner and sales manager with PRIER. My interests include coaching basketball, baseball and football for my kids and following the KC Royals, Chiefs and Missouri Tigers. I am currently reading Blink by Malcolm Gladwell and loved the Stieg Larsson trilogy (Girl with the Dragon Tattoo, The Girl Who Played with Fire & The Girl Who Kicked the Hornet's Nest).